BlackMagic Ultimatte-12-HD-Mini
MFR #ULTMKEY12/A/HDM
BLK #492-0104
✓ Installment payments up to 36months by credit card.
Chroma Keyer
2.2" LCD Screen
Up to 1080p
3G-SDI and HDMI IN/OUT

Ultimatte-12-HD-Mini
The all new Ultimatte 12 is more than the world's best keyer, it's an advanced real time compositing processor designed for the next generation of broadcast graphics. Ultimatte 12 features entirely new algorithms and color science that deliver true photorealistic composites. You get incredible edge handling, greater color separation, amazing color fidelity and better spill suppression than ever before, even in dark shadow areas or through transparent objects such as windows! Ultimatte 12 is available in 4 amazing models, with HD, Ultra HD and even native 8K support! Imagine presenting the weather, sports, news and entertainment in a cinematic quality environment, all composited in real time.
Add an Ultimatte 12 to Each Camera!
When you're working live with multiple cameras shooting from different angles, it's common for the green screens to suffer from variations. Plus the keyers built into live production switchers often have to be shared between cameras, which complicates keying because each camera sees the green screen a little differently. The new Ultimatte 12 eliminates these problems because you get incredible technology at an affordable price, allowing each camera to have a separate Ultimatte. That means each Ultimatte can be tuned to a specific camera's view! With a dedicated Ultimatte on each camera, your compositions can go well beyond what's possible with set design, so you can create whole new worlds!
Generate Live Virtual Environments for Broadcast!
Whether you're working in broadcast news, sports, film production, or magazine style entertainment programming, Ultimatte 12 has the quality for incredibly life like composites that place your talent into any scene! Plus the new Ultimatte 12 models include built in frame stores so you don't need live video sources for all inputs. You can also use Ultimatte 12 to layer computer generated augmented reality foreground objects into a scene, complete with realistic transparency that your talent can walk behind! Ultimatte 12 is also perfect for on set pre visualization in film production because it lets actors and directors watch the scene while they're shooting.
Create Realistic Fixed Camera Virtual Sets
Now you can create a massive broadcast set, even in small apartments or a basement! That's because all Ultimatte 12 models have frame stores so you can load pre rendered still frames from a 3D modeled broadcast set. This is a revolution in live production because you can now use a virtual set even if you don't have the space for a physical broadcast set! Plus without any external equipment! Just use multiple cameras, each with an Ultimatte 12 and a background frame loaded. As the backgrounds are pre rendered, they can be more photorealistic than a traditional virtual set. If the cameras don't move, the backgrounds will look perfect! Plus Ultimatte 12 is low cost, so you can use more cameras!
Ultimatte 12 HD Mini
Unique Ultimatte 12 with HDMI connections so you get the world's most advanced keyer with consumer cameras! Get full Ultimatte 12 processing and frame stores to create virtual sets at no extra cost!
Ultimatte 12 HD Mini is an advanced real time keyer designed for creating next generation virtual sets and more with consumer cameras. The HDMI connections are perfect for use with Blackmagic Studio Cameras, Pocket Cinema Cameras and ATEM Mini live production switchers. Plus there's a massive 6 GB frame store for realistic fixed camera virtual sets from pre rendered still frames. Ultimatte 12 HD Mini features broadcast quality algorithms and color science to deliver photorealistic composites.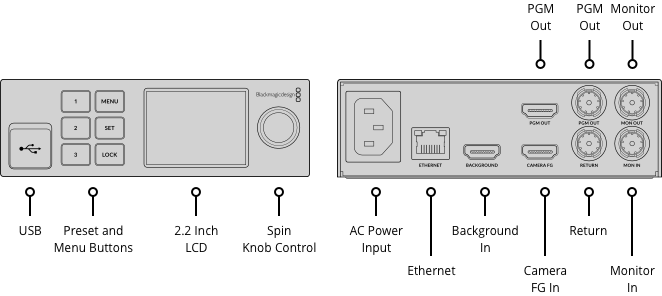 Source: https://www.blackmagicdesign.com/products/ultimatte/techspecs/W-ULTM-13