BlackMagic
Mixer ATEM SDI Extreme ISO
MFR #SWATEMMXEPCEXTISO
BLK #492-0102
✓ Installment payments by credit card.
Video Mixer HD 8 inputs
8x 3G-SDI inputs with embedded audio
4x 3G-SDI and 2x USB-C outputs
Up to 1920x1080pix 50P/60P

ATEM SDI Extreme ISO
Introducing ultra portable live production with advanced broadcast features
ATEM SDI is a family of live production switchers designed for broadcasters who need extreme portability! ATEM SDI switchers are very similar to ATEM Mini, however the video connections are 3G-SDI and each model has double the number of video outputs! You get 4 SDI inputs on the ATEM SDI and ATEM SDI Pro ISO models and 8 SDI inputs on the ATEM SDI Extreme ISO model. Plus all SDI inputs feature standards converters and re-sync! You even get DVEs for picture in picture effects! The USB works as a webcam for connecting video to computers, while the Pro and Extreme models feature built in streaming. For audio the Fairlight mixer includes a compressor, limiter and 6 band parametric EQ on each input!

A New Generation of Ultra Portable Live Production!
ATEM SDI gives you the portable design of ATEM Mini, but its SDI connections means you can connect advanced broadcast quality cameras and recorders. This opens up a whole new world of ultra portable live production. The incredibly portable design means you can fit a whole broadcast quality live production system in a small bag or even a backpack! You can use multiple cameras on location and live stream direct to YouTube, or create a broadcast quality link back to a studio with ATEM Streaming Bridge. Unlike single camera remote shoots, ATEM SDI lets you connect multiple cameras so you can create interesting remote interviews with multiple camera angles.
Self Contained Broadcast Quality Switcher
ATEM SDI's compact all in one design includes both a control panel as well as connections. The front panel includes easy to use buttons for selecting sources, video effects and transitions. The source buttons are large so it's possible to use it by feel, letting the presenter do the switching! You even get buttons for audio mixing! The ATEM SDI Pro and Extreme models have buttons for recording and streaming control, as well as output selection buttons that let you change the video output between program, direct camera feeds and the multiview. On the rear panel there are SDI connections for cameras, extra microphone inputs, USB for webcam plus multiple SDI "aux" outputs for program video.
Easy to Use and Fast to Learn!
There's never been a switcher that's easier to use, as you simply press any of the input buttons labelled by number on the front panel to cut between video sources. You can choose between cut or effects transitions by selecting the cut or auto buttons. Unlike cut, the auto button tells ATEM SDI to use a video effect when switching inputs. You can select from exciting transitions such as dissolve, or more dramatic effects such as dip to color, DVE squeeze and DVE push. Add a DVE effect for picture in picture effects with customized picture positions and background. There are even "media players" which are a still store for titles and graphics that you can load via external software control.
ATEM SDI Extreme ISO
This model includes all the features of ATEM SDI Pro ISO model but has 8 SDI inputs and 4 SDI outputs. It can record 9 separate H.264 video streams in real time, allowing capture of all 8 clean feed inputs as well as the program video. A DaVinci Resolve project file is also saved.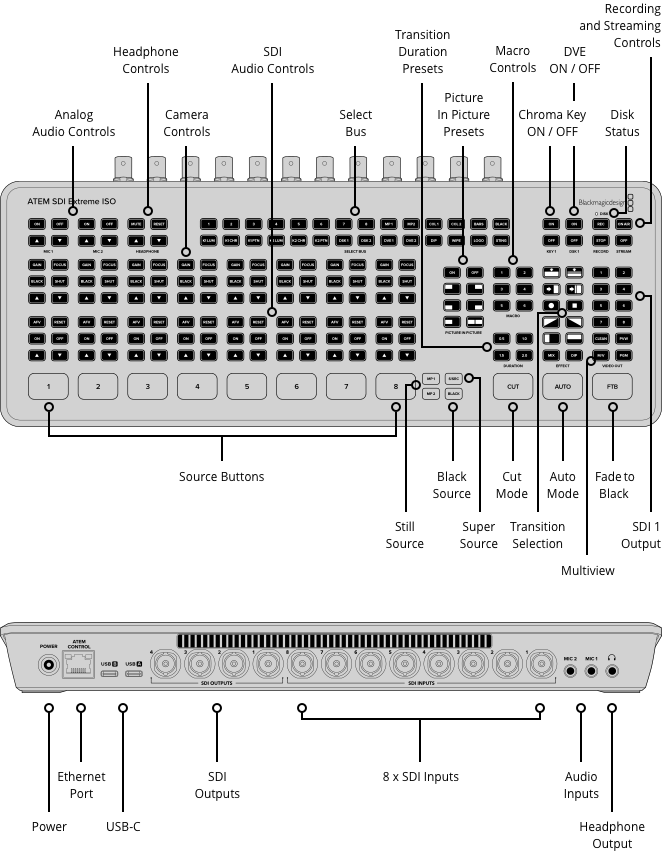 Source: https://www.blackmagicdesign.com/products/atemsdi/techspecs/W-APS-36